Price: $6,298,000
Location: 2737 Casa Loma Road, West Kelowna, BC
West Kelowna, nestled in British Columbia's stunning Okanagan Valley, is a popular destination. Tourists are drawn to its wineries, scenic mountains, and outdoor activities such as boating, fishing, and water sports. Beyond its appeal to short-term visitors, it's also a sought-after location for real estate buyers seeking unique seasonal or year-round homes.
With pristine freshwater beaches, rolling vineyard-covered hills, and convenient access to downtown Kelowna, West Kelowna is an ideal area in British Columbia's highly desirable real estate market. Casa Loma, situated along Okanagan Lake in West Kelowna, stands as one of the city's most exclusive and charming neighborhoods. A bridge conveniently connects this enclave to Kelowna's downtown. 
2737 Casa Loma Road is a stunning home that has recently become available in West Kelowna's real estate market. This waterfront property is a perfect summer retreat with a private wharf and sandy beach. The contemporary and stylish home offers five bedrooms, seven bathrooms, and 5,703 square feet of interior space. 
The incredible views from the living room will captivate visitors upon entry. With a chic blend of glass, brick, and wood materials throughout, the home's interior reflects the modern aesthetic of its exterior. 
The spacious gourmet kitchen features exposed brick, top-of-the-line appliances, including a built-in coffee maker, and a massive granite island great for meal prep and entertaining. The sizable dining area, seamlessly connected to the kitchen, is perfectly positioned to behold breathtaking waterfront views as you dine and entertain.
The entire top floor is dedicated to the primary suite, featuring a generous walk-in closet, a stunning en-suite bathroom, and a private balcony showcasing the beautiful scenery. The en suite includes an eggshell bathtub, dual vanities, and a walk-in glass shower.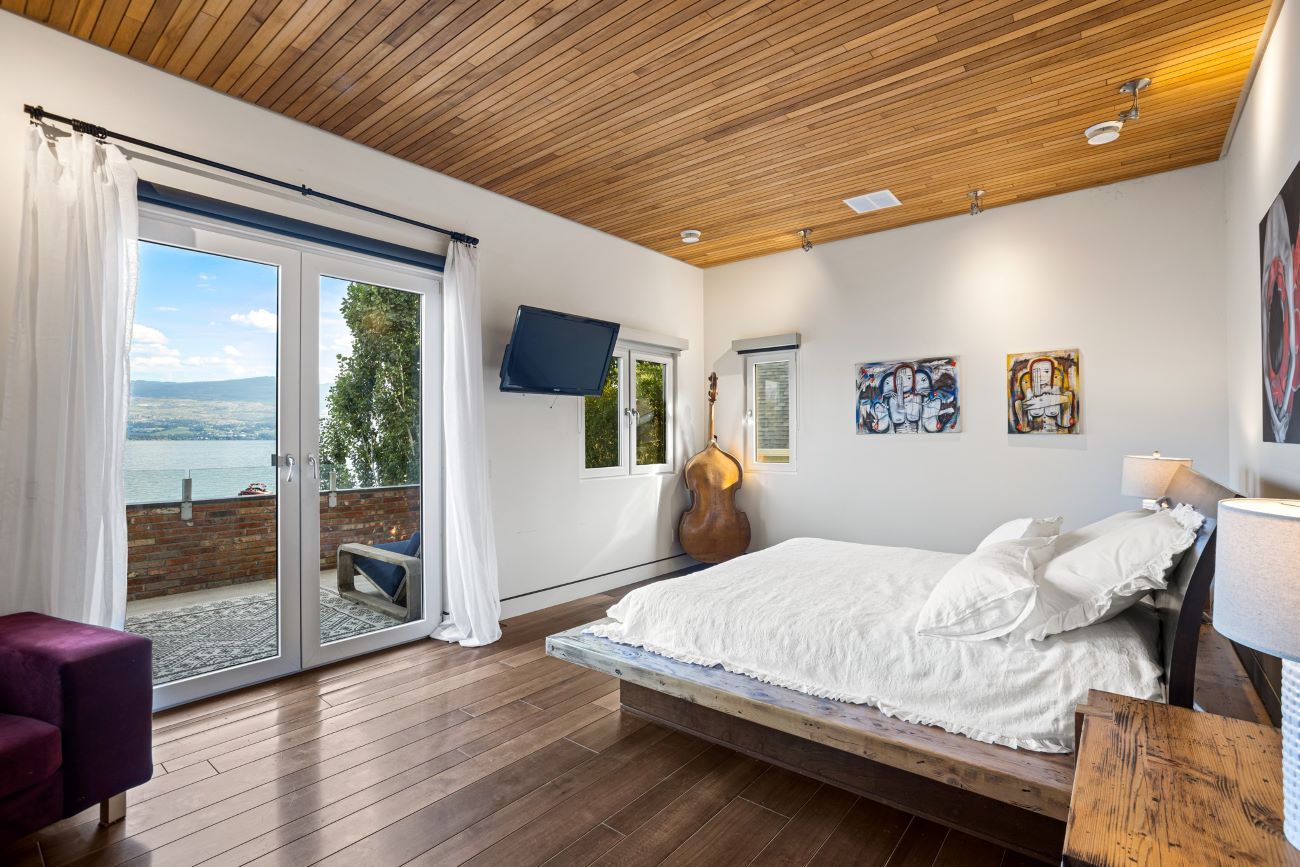 The lower level presents a range of incredible amenities, including a home theater, a wine cellar, a library, a family room with a wood stove, and a customizable rec room with nano doors that open to the lakeside backyard.
The property's gorgeous exterior is a big draw. Nano doors lead to a back patio with a covered barbecue area that is perfect for summer gatherings. Also, a sprawling lawn extends to a sandy beach, fire pit, and private pier. A generous three-car garage is on the property as well. 
Video tour of 2737 Casa Loma Road, West Kelowna, BC
2737 Casa Loma Road is a dream West Kelowna home in a fantastic neighborhood. This expansive property comes with numerous high-end features, including a private waterfront area on the gorgeous Okanagan Lake. With a listing price of $6,298,000, the property stands as one of the most luxurious offerings in the Kelowna area's real estate market.