Price: $1,100,000
Location: 14386 W Poplar Ave Hayward, WI 54843
Nestled in the heart of Wisconsin, Hayward stands out as a picturesque haven, offering an idyllic blend of natural beauty and modern comfort.Hayward, often lauded for its serene landscapes and welcoming communities, is the ideal location for those seeking a perfect blend of tranquility and recreational opportunities.
In this charming town, you'll find an extraordinary property that epitomizes the essence of lakeside living. This stunning lakeside retreat at 14386 W Poplar Ave is not just a property; it's an invitation to a lifestyle of tranquility and natural beauty.
Step into the living room of this delightful single-family home, and you're greeted with a warmth that emanates from the breathtaking views of Grindstone Lake. The spacious living area seamlessly blends with the natural surroundings, creating a cozy haven for relaxation. The carpeted floors add a touch of luxury, offering a comfortable space for family gatherings or quiet evenings by the fireplace.
The heart of any home is its kitchen, and this property takes it to another level. The remodeled kitchen is a chef's dream, featuring modern amenities and a design that perfectly complements the lakeside ambiance. Prepare meals while enjoying panoramic views of the lake, making every cooking experience a delightful affair.
With four carpeted bedrooms, this lakefront home ensures that every member of the family has their own private retreat. The bedrooms exude comfort and tranquility, creating an ideal space to unwind after a day of lakeside adventures. Wake up to the soothing sounds of nature and the promise of another day in this lakeside paradise.
The three bathrooms in this lakeside home feature stylish tiles, combining sophistication with easy maintenance. One of the bathrooms is equipped with a luxurious bathtub, creating a spa-like retreat within the comfort of your own space. These thoughtfully designed bathrooms add both elegance and practicality, ensuring a delightful living experience for residents and guests alike.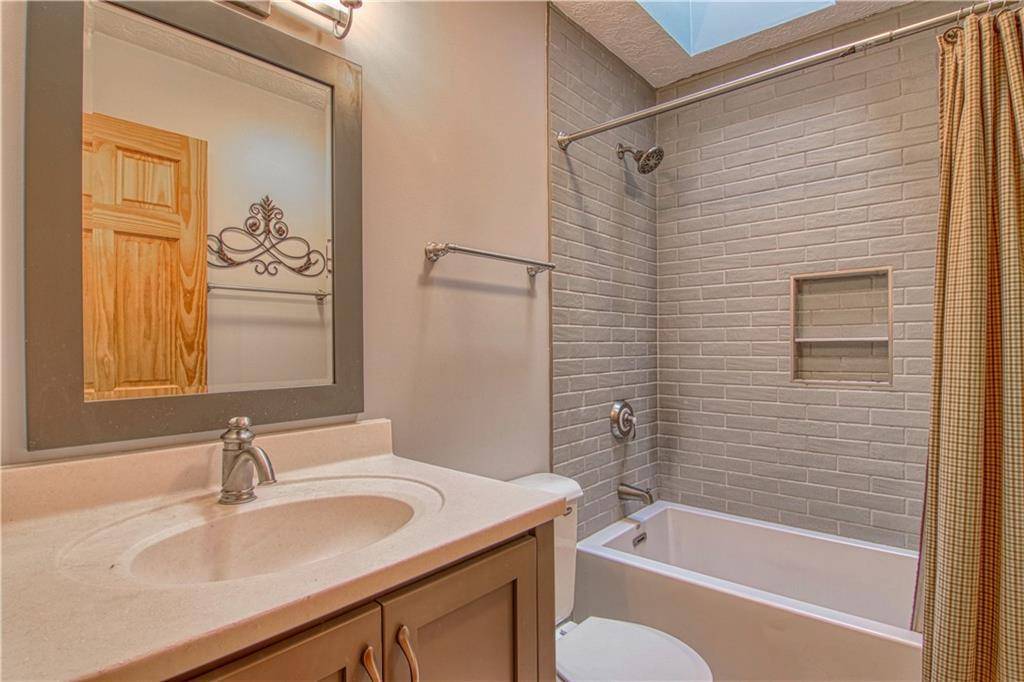 This property offers more than just a home; it's a gateway to endless summer fun. Situated on a spacious 0.55-acre lot, the 2,086 sqft residence provides ample room for various outdoor activities. The house comes with a total of 157 feet of sandy space by the water – 89 feet for the main house and an additional 68 feet for the adjacent empty area, creating a unique opportunity for lakeside living.
Ensuring convenience and organization, the property features a two-car garage and a lakeside storage unit. The garage provides secure parking and additional storage, while the lakeside storage unit offers a designated space for all your gear and water toys. This thoughtful arrangement ensures that everything has its proper place in this idyllic setting.
Enhancing the exclusivity of this lakeside haven is a reserve strip along the shoreline, providing an extra touch of privacy to your retreat. Whether you're diving into the clear water, enjoying stunning northwest views, or organizing your lake toys, this property seamlessly integrates nature and functionality. It's not just a beautiful home; it's a harmonious space designed for tranquility and recreational enjoyment.
"Excellent property with level elevation and perfect view."

– Gary A. Nathan
In conclusion, this lakeside retreat on Grindstone Lake is a rare gem, offering a harmonious blend of modern comfort and natural beauty. Priced at $1,100,000, it presents an opportunity to embrace the best of lakefront living. Don't miss your chance to make this serene haven your own and experience the unparalleled beauty of Hayward, Wisconsin. It's not just a property; it's a promise of a life well-lived in the lap of lakeside luxury.