Below, we'll overview some of the best fall destinations in Minnesota and the Dakotas.
Brainerd, MN
Brainerd is a picturesque little city on the Mississippi River. It is a renowned destination thanks to its world-class fishing areas, scenic golf courses, and stunning hiking trails. During the fall, everything tourists love about Brainerd is taken up a notch. Trees bursting with color surround Brainerd's lakes and rivers, creating an idyllic place to go fishing or boating. Also, the city's breweries and distilleries offer delectable beverages to savor while relaxing after a great day outdoors.
Stillwater, MN
Stillwater is a small city along the St. Croix River, just across the water from Wisconsin. This historic community is a charming year-round destination, but there is no better time to admire the area's scenery than during fall. Take a hike along the St. Croix River Crossing Loop Trail to enjoy brilliant waterside fall foliage. Also, Stillwater houses many breweries and wineries that unveil delicious new beverages throughout autumn. 
Duluth, MN
Duluth, a charming city along Lake Superior, is one of Minnesota's largest tourist hubs. From its world-famous lift bridge to its charming shopping areas and dining options, Duluth has much to offer. In the fall, bright foliage adorns the thousands of acres of parkland and gorgeous trails that line Lake Superior and the St. Louis River. To explore Duluth's waterways, get out on one of the area's many boat tours, which perfectly showcase the season's beauty. And the city's numerous breweries serve tasty beverages to help you unwind after a crisp waterside hike.
Fargo, ND
Fargo is a bustling city along the North Dakota-Minnesota border. This picturesque urban center is the biggest city in the state and a great destination for a fall retreat. Visitors fill Fargo's dining establishments and entertainment venues in the fall, and there are plenty of seasonal attractions around the city. The Red River Market, the state's largest farmers market, remains open through the majority of autumn, and numerous pumpkin patches and apple orchards line the city's outskirts. For a classic Fargo fall experience, head to a North Dakota State University football game.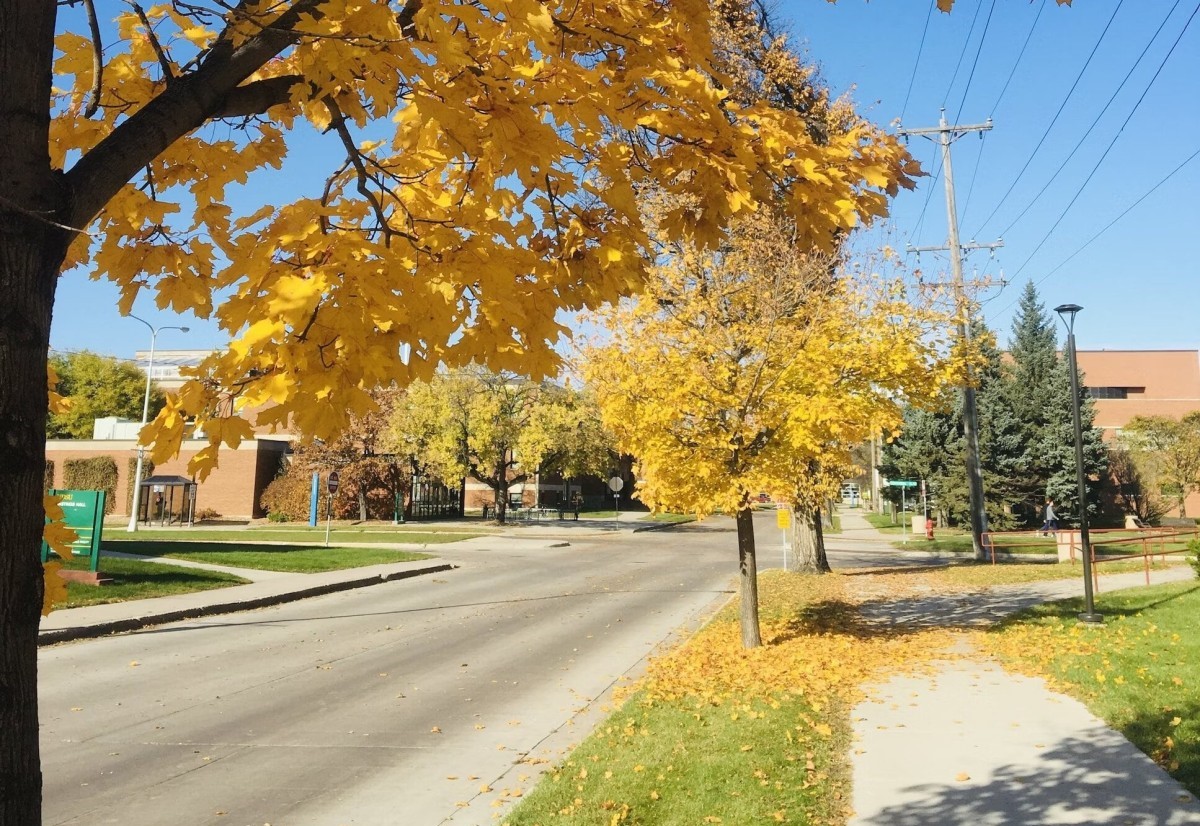 Bismarck, ND
North Dakota's state capital, located along the Missouri River, is a pleasant city known for its historical background. Today, Bismarck stands out as one of the most appealing autumn destinations in the Midwest. It is a fantastic place to witness magnificent fall foliage, as trees burst with color across the city and along the river. Bismarck provides ample opportunities for traditional fall activities, with pumpkin patches, corn mazes, and apple orchards. Papa's Pumpkin Patch is an iconic fall hotspot nearby where you can indulge in harvest treats and choose your next jack-o'-lantern from thousands of pumpkins.
Spearfish, SD
Spearfish, a dream fall destination, is a little city steeped in South Dakota's natural beauty. Located in the Northern Black Hills, Spearfish undergoes a remarkable autumn transformation, ablaze with vibrant color. Whether hiking or driving through the Spearfish Canyon Scenic Byway, you'll have the opportunity to explore numerous breathtaking locations ideal for leaf-peeping. Also, Spearfish is known for its exceptional fishing opportunities, which can be enjoyed in the fall, and is home to an expansive corn maze and pumpkin patch.