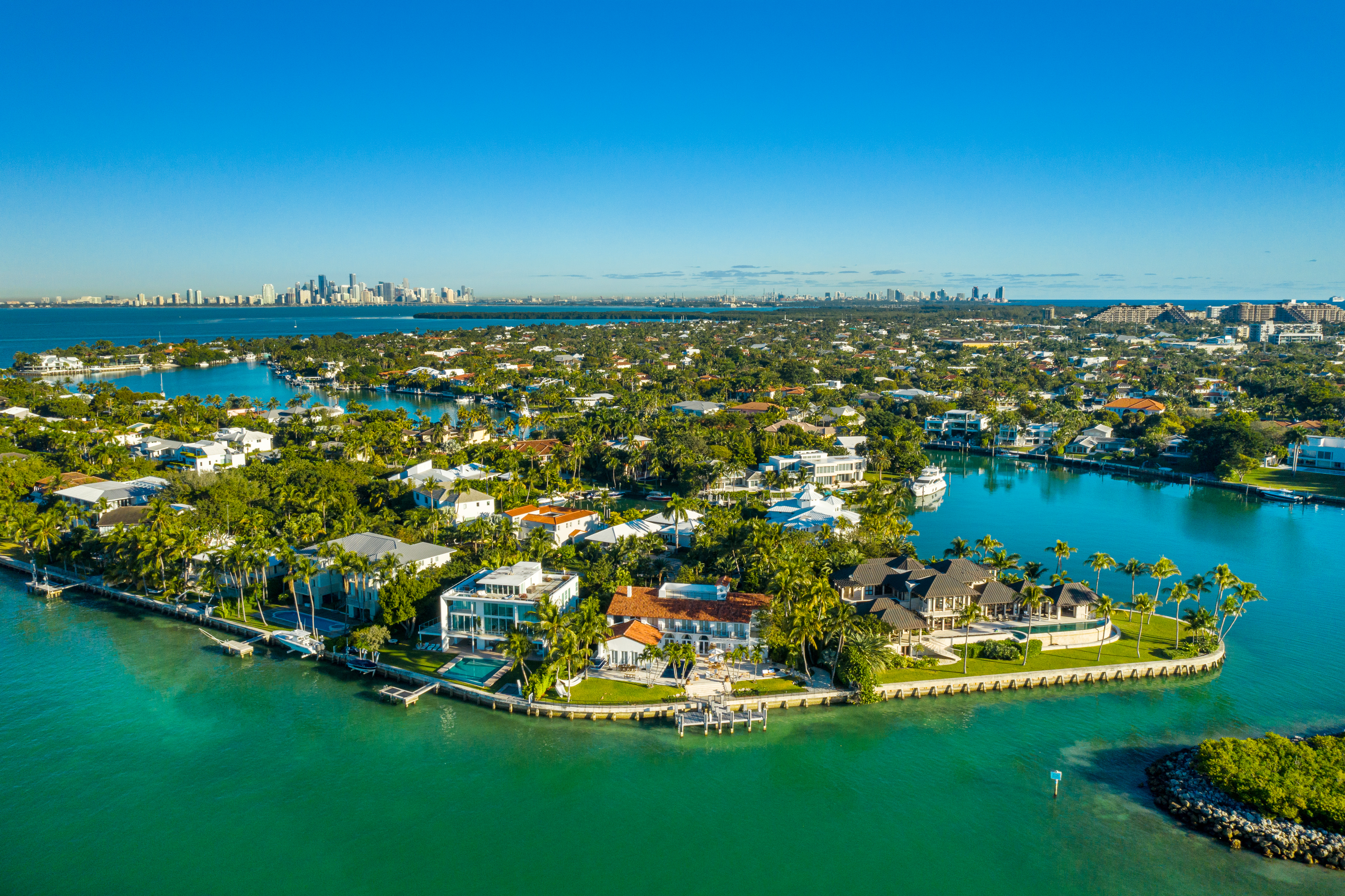 While numerous areas of Miami grace stunning waterways, specific neighborhoods within the city truly distinguish themselves. These locales don't only offer scenic waterfront panoramas, but also exude vibrant cultural allure and present exceptional real estate opportunities. Let's look at some premier waterfront neighborhoods in Miami.
South Beach
South Beach wholly embodies Miami's glitz and glamor. This picturesque neighborhood, a favorite tourist destination, is renowned for its high-end restaurants, soft-sand beaches, and non-stop nightlife. A prime area for discerning buyers, South Beach houses luxurious condominiums with waterfront views and sprawling mansions inhabited by movie stars, pop icons, athletes, and business magnates.
Gables Estates
Gables Estates stands out as the ultimate destination for those seeking unparalleled privacy and waterfront luxury. This private, gated community along the water in Coral Gables includes approximately 160 high-end properties, and when homes become available, buyers act quickly. Considered one of the nation's most exclusive communities, Gables Estates has tranquil waterways that meander through serene residential streets. Also, Gables Estates offers a heightened level of security with round-the-clock surveillance and dedicated private patrols.
Key Biscayne
Key Biscayne is a sun-soaked community on a barrier island just off the coast of Miami. Wilderness envelops the town, with major parks flanking its northern and southern reaches and water on every side. Key Biscayne has excellent beaches, luxurious resorts, and high-end properties. Living there can be costly, as there are many incredible houses offering amenities such as private water frontage and built-in docks.
North Beach
For those who prefer a more laid-back atmosphere, North Beach presents an intriguing alternative to South Beach. This calm and scenic Miami Beach neighborhood is ideal for families and professionals. Its expansive shoreline comprises an abundance of walkable parkland and waterfront condominiums. And while it isn't as upscale or flashy as South Beach, North Beach still offers stellar shopping and dining options. 
Bal Harbour
At the northern tip of Miami Beach lies Bal Harbour. Turquoise water surrounds this gorgeous suburb, boasting some of the most scenic beaches in the area. Radiating an exclusive and upscale ambiance, Bal Harbour has long been a sought-after residential enclave for the affluent and famous, providing a serene escape from the bustling commotion of other neighborhoods. Also, it is home to world-class shops, premier luxury living options, and trendy restaurants from world-renowned chefs.
Venetian Islands
The Venetian Islands, a chain of six islands in Biscayne Bay, serves as a residential hotspot. The Venetian Causeway seamlessly connects the Venetian Islands neighborhood with downtown Miami. This exclusive community features expansive waterfront homes in a quiet, highly residential enclave. While there aren't many shops and restaurants on the islands, residents can easily access a multitude of Miami's top destinations, combining convenience and tranquility.
Coconut Grove
Coconut Grove, the oldest neighborhood in Miami, is another affluent community along the scenic water of Biscayne Bay. Its numerous upscale living options include high-rise condominiums with top-notch amenities and spacious properties perched on the water. Having undergone a major redevelopment that added offices, spas, and boutiques, Coconut Grove's entertainment, dining, and shopping opportunities attract many visitors.