Your house should be a place you are happy to arrive back to every day after work. It should be a place that feels uniquely yours, and for one lucky buyer in the Encino area, their home is guaranteed to feel unique, because it truly is one-of-a-kind.
Onin, the latest property designed by California-based home designer Jae Omar, is a home that wears its unique influences upon the surface. Omar has taken influence from nature throughout his career, but Onin's primary influences lie elsewhere. Onin's design is a direct product of the eruption of creativity in Japan following the end of the Onin War, with modern influences woven throughout.
The Onin War was a 15th-century civil war in Japan that upended much of the power structure of the ruling class and ushered  the country into a new era. From that period of destruction, much of the design and artistic forms we associate with Japan emerged. The Onin home is a tribute to the masterful creators of this time.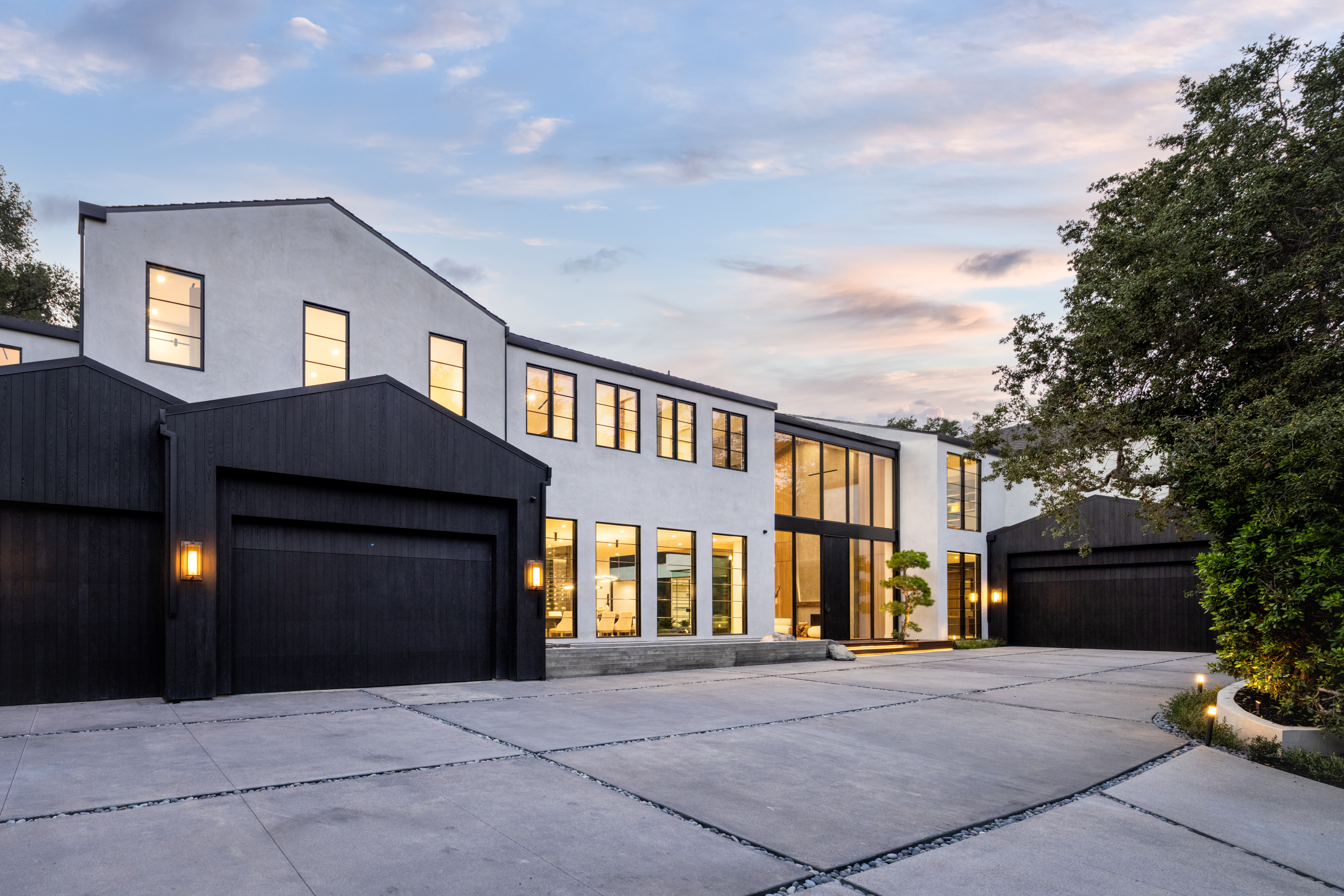 The home uses traditional Japanese elements to honor the past. Shou-sugi-ban wood-burning creates a stunning effect on the exterior façade and throughout the house. There are also narrow handcrafted oak screenings that stretch across the high walls and ceilings, which hide doorways, adding to the home's open concept look. There is also a 3,500-foot primary suite with an attached courtyard featuring a gorgeous bonsai tree.
The more modern elements of the home are inspired by Omar's desire to twist the "modern farmhouse" trend that has become exceedingly popular in the current real estate landscape.
"We've taken the popular yet timeless concept of a farmhouse and introduced an entirely new spin with ŌNIN," says Omar. The spin that Omar has implemented is found in the radical openness of the space. "Farmhouses at their roots are accessible, simple and uncluttered," says Omar. "More than just deconstruction we've stripped away the barriers and embraced an openness and tactility that feel both expansive and intimate at the same time."
While the home is radically open, that doesn't mean it doesn't have its fair share of secrets. Omar is known for equipping his homes with differentiating features, which he readily admits. "All my houses have an element of mystery to them and ŌNIN is no exception," says Omar. But Onin's mysteries are rather dramatic.
The home has numerous secretive aspects that add to its intrigue. "We have flush doors that are barely differentiated from the walls, secret cabinet passageways that lead to other rooms, pivoting wall panels seamlessly integrated into wood screen walls, even a pivoting bookcase leading to a secret space," says Omar.
The unique nature of Onin extends beyond the design features. The home has bespoke amenities that are entirely one of one. The house has a 65-foot raised wet edge pool with a continuous black marble waterfall. One of the bathrooms features a 4,500-pound boulder as the sink. The home also is complete with a resort-level gym and spa, featuring a steam room, sauna, cold plunge, and Jacuzzi.
With so much to offer, finding one single feature that sets the home apart is a problem for Omar. "I'm torn for my favorite space between the principal suite and powder room number one (there's two)," says Omar. "The 65' book-matched marble water feature isn't bad either."
Located in Los Angeles' exclusive Royal Oaks community in Encino, Onin represents the pinnacle of luxury living. The property is large, with 1.3 acres, and the house has more than adequate space for a family of any size. With nine bedrooms, ten bathrooms, 19,500 square feet, and even a guest house, the home is a spacious abode by any standard.
While the home hasn't found a buyer yet, some of Omar's previous designs have housed well-known names, including Sophie Turner and Joe Jonas. Onin's $26 million price tag makes it likely that the buyer will likely be someone with acclaim, whether in business or cinema.
Onin poses a unique opportunity for buyers because it is a bespoke property in an exclusive location with an entirely one-of-a-kind design. Omar has designed a house with an influence that plays on both ancient Japanese stylings and modern trends. Onin will provide one buyer with a home that is just as much an art piece as it is a home, making it one of the rarest kinds of properties available.