Michigan's gorgeous scenery and delightful towns and cities are key attractions for countless visitors each fall. But where to go? Below are some of the best fall destinations in Michigan for your next idyllic seasonal getaway. 
Detroit
Michigan's largest city boasts numerous attractions that can be enjoyed year-round, including excellent museums, a thriving food scene, and more. However, fall in Detroit brings its own kind of excitement. Farms surround the city, and during autumn, many offer thrilling activities like haunted corn mazes or wagon rides. Attend one of Detroit's fun fall festivals, such as the Detroit Harvest Fest & Food Truck Rally, with more than 50 food trucks, live music, and family-friendly activities. Also, scenic destinations, such as Rouge Park, are perfect for admiring picturesque fall foliage on a walk through the city. 
Grand Rapids
Grand Rapids is a charming city on the Grand River. Its thriving arts scene attracts visitors throughout the year, but there may be no better time to go than in the fall. Grand Rapids is renowned for its vibrant brewery scene, and during autumn, you have the opportunity to savor delectable fall-flavored beers at various establishments throughout the city. For classic seasonal enjoyment, go leaf-peeping along the scenic trails at Ken-O-Sha Park or visit the city's apple orchards and pumpkin patches.
Traverse City
Traverse City is a popular vacation spot, particularly during the summer, due to its location along the stunning Grand Traverse Bay. But the fall season is also a desirable time to visit Traverse City, when waterside foliage creates a postcard-worthy setting. Wine enthusiasts will appreciate the city's numerous wineries, many of which provide tours and tastings year-round. Also, Traverse City's Downtown Halloween Walk helps you get into the spooky spirit of the season.
Flint
Flint is a historic city that played a pivotal role in the boom of Michigan's automotive industry. Its industrial past is distinctly visible in its present-day architectural landscape. Visiting Flint in the fall will bring you plenty of entertainment. The city houses captivating museums and cultural attractions, including the Flint Institute of Arts. Also, its outdoor destinations, such as the Flint River Trail, allow you to immerse yourself in the area's incredible seasonal colors.
Ann Arbor
Ann Arbor is a charming city with a bustling downtown, breathtaking natural settings, and a vibrant college-town atmosphere. Home to the University of Michigan, visiting Ann Arbor in the fall allows you to witness an exhilarating Michigan football game at the famous "Big House" stadium. The city fully embraces the seasonal atmosphere, and visitors can delight in delicious fall treats at the Dexter Cider Mill or indulge in pumpkin-flavored beers from local breweries. 
Upper Peninsula
The Upper Peninsula, one of Michigan's top destinations for a fall retreat, is an outdoor enthusiast's dream. With lush forests that undergo a spectacular autumn transformation, this nature-filled paradise is ideal for hiking and outdoor fun. The Upper Peninsula is home to charming small towns, including Marquette and Munising, as well as the famed Mackinac Island, a car-free vacation hotspot that attracts crowds of visitors annually.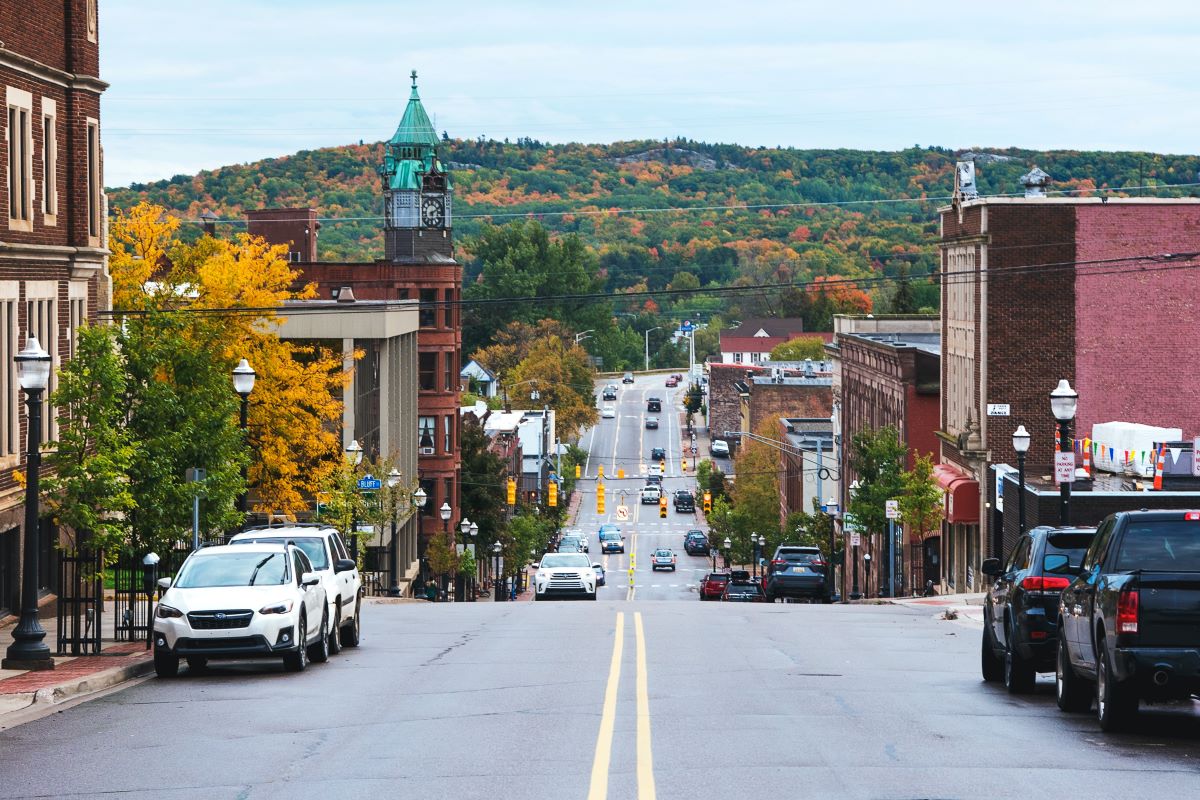 East Tawas
East Tawas is an immensely popular vacation spot year-round. Nestled between Lake Tawas and Lake Huron's Tawas Bay, the city attracts anglers and boaters throughout most of the year. During the fall, however, you can capture autumn foliage pictures while on a leisurely stroll along lovely waterfront hiking trails or explore Tawas Point State Park. The town itself is charming and laid-back, with eateries that serve scrumptious seasonal treats.