Now that the seasonal chill has set in, and the wet weather has turned cold and snowy, homeowners are spending considerably more time indoors. Consequently, they are thinking about winter design trends and how to make their property feel warm and snug with inspiring décor.
The foundation of winter furnishings starts with color and the addition of soothing coverings and fabrics to complement. Interior designers are focusing on an aesthetic composed of romantic revamps, earthy neutrals, delicate natural elements, textured surfaces, cozy layers, and soft textiles.
Most act with a desire to make their environment as pleasant and comfortable as possible. Whether it be for daily living, family gatherings, or festive celebrating, winter styling decisions center around choices that enhance each home's capacity to offer relaxation and restoration.
So, what is really popular? What are the hot looks heating up home interiors? Our Haven article showcases the top six winter design trends for 2023.
Trend #1: Revamp the Fireplace
Whether your home has only one fireplace or several, there is nothing better than cuddling under the blankets near the warmth of the hearth. While logs crackle from the flame, feelings of security are enhanced by the delicious smell of the burning wood. This is an ancient experience that has been the mainstay and central focal point of homes for centuries.
Fireplace redesign is an organic starting point for any upgraded winter interior design effort. Simple décor alterations can affect requisite structure while savvy renovations can imbue the fireplace with engraved sophistication.
Some may dispose of the current fittings, but most will take a traditional route that begins with new tiling and molding. Many designers will layer the fireplace with multiple components that contrast with the interior décor to produce an eye-catching gathering place.
As a statement piece showing pattern and style, dynamic lighting can be added for special ambiance to illuminate an ornamental mantle. Earthy textures and layering can be used to elevate the tone and mood of the fireplace arena in conjunction with the home's holistic design schemata.
Trend #2: Earthy & Cool Colors
According to interior designers, earthy browns, tans, and other warm-toned colors such as mocha, berry, mushroom, cinnamon, oatmeal, and caramel are emerging as essential winter design trend hues. Neutral shades create a soft palette and expansive aesthetic foundation that fits well with rich wood accents, plants, and natural fabrics, such as jute or wool, that mirror and evoke nature.
That being said, a popular trending element this year is natural wood. Since many woods possess warm earth-tone colors, such as maroon, mauve, rust, timber, and turmeric, they can be incorporated with a muted beige, gray, or white blending palette to convey smooth, calming vibes. The main purpose is to use earth tones to generate and emphasize an outdoor feel throughout the home's interior to instill a welcoming, cocooning sensation and enliven winter spaces.
Although neutral colors stabilize the look and feel of the décor, design experts say it is advisable to augment earthy brown tonalities. Use the vibrancy of warm spices such as yellow turmeric, red paprika, brown cinnamon, and terracotta into your design palette, which introduces the rich, warming impression we all seek during the winter months.
Something of a surprise is the emergence of oceanic blues and coastal lavenders, which can be added to most earthy, neutral décor aesthetics to boost overall tonality. Deep blue shades, such as midnight azure, indigo, and royal blue, are ideal colors synonymous with winter, creating a contemporary atmosphere. Cooling blues and lavenders infuse wood-accented design elements with sophistication while pairing extremely well with earth-toned décor.
Trend #3: Biophilic Design
While earthy elements and colors make interior spaces feel warm and inviting during colder periods of the year, recent design trends have focused on things that fortify our innate connection to nature, namely biophilic design.
No longer limited to rooftop gardens, internal courtyards, and open-air spaces, biophilic design is now incorporated into winter interior décor as a way to connect us to nature, which can pacify anxiety while orchestrating deep ties to our well-being.
As a byproduct of the pandemic, interior designers have become aware of the power and vitality brought into living spaces by plants and other forms of living greenery.
Natural design practices include the strategic placement of indoor plants and other organic elements. These include wood, bamboo, baskets, and other natural textures to enhance décor while grounding the interior to the outside world.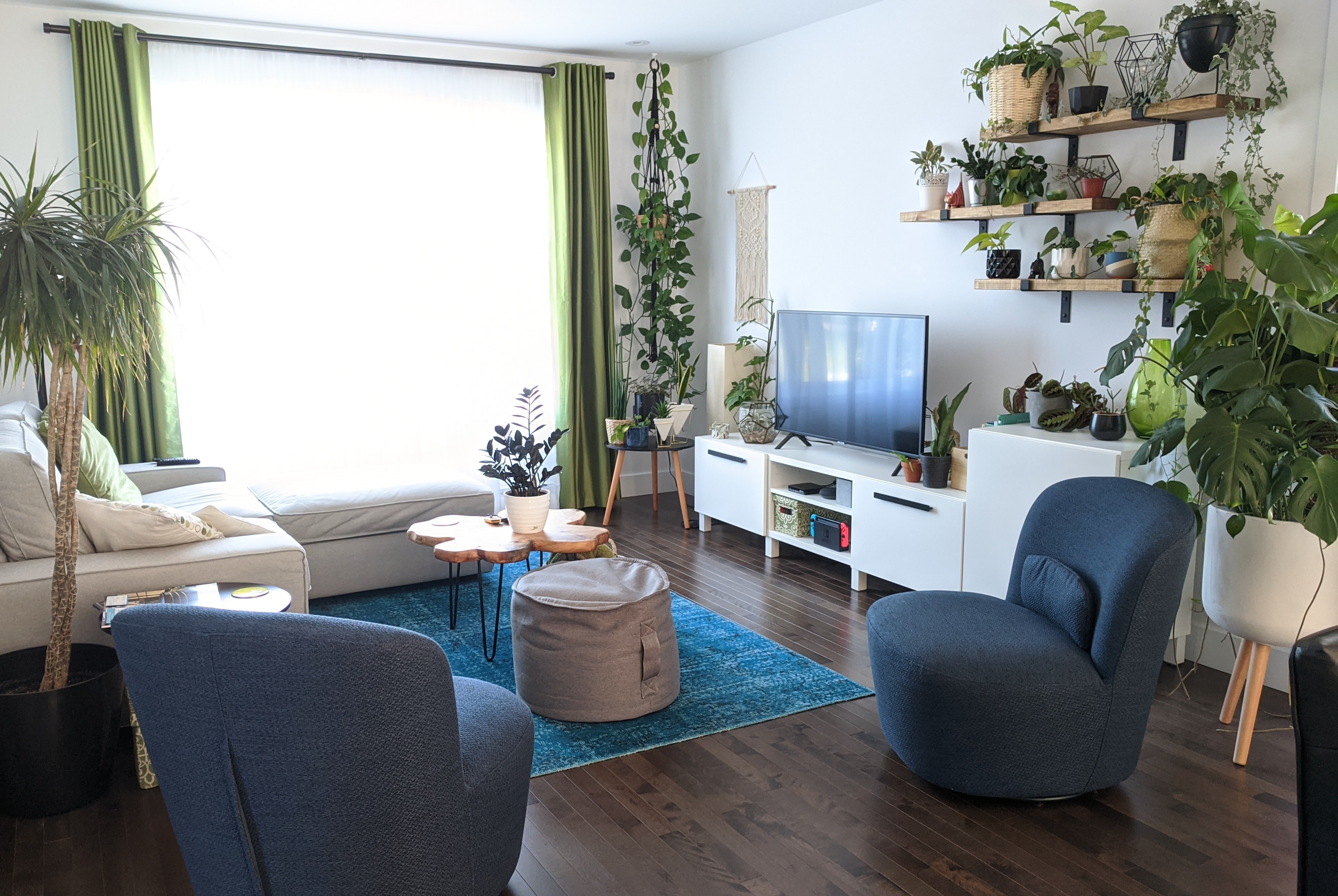 Trend #4: Natural Elements
Thematically, designers are concentrating on interior décor that brings natural elements and textures indoors.
This includes leveraging basics, such as a variety of woods accented with natural ceramic or stone accessories; woven materials of jute, wicker, rattan, and sisal; and other organic substances, including hardwood, leather, marble, and terracotta.
The most significant natural material trend has been the incorporation of dark wood elements. While light wood tones, such as tan and beige, are still being used, designers are leaning toward classic ebony, toast browns, and dark cocoas to create color balance.
Classic warm wood ceilings, columns, flooring, panels, doors, windows, and other accents, such as lamps, seating, tables, bookcases, and cabinetry, add contrast while insulating spaces to provide a gratifying warmth and sense of beauty.
Trend #5: Textured Walls
In general, winter design trends embrace natural textures in most respects, and this includes mural wallpaper and richly painted walls that function to create a real sense of environment. Adding texture requires a studied application of color and layers on walls using materials, such as wallpaper, tile, wood elements, and combinations of hue, to achieve a truly unique look.
The sky's the limit with wall textures—lead with imagination. Textiles can be overlapped on walls to promote visual and tactile associations, such as artwork, trim, moldings, and wall hangings. Associated fabrics and textures, including velvet, fringed cashmere, boucle, woven wool, and shag, incorporated with adjacent walls can interconnect your design décor.
Don't underestimate how powerful a well-thought-out and executed textured wall can be for your home. It can be as simple as using a patterned wallpaper, for example, behind your fireplace or in your living room, with matching furniture to highlight that specific area for maximum impact and an eloquent finish.
Trend #6: Layers, Textures & Textiles
A lot has been said about the importance of layering during the winter months, and it is nonetheless a critical factor for both your comfort-scale and interior design scheme. Like putting on layers of clothing to brave a cold venture outdoors, layering in interior design translates to specific décor selections dependent on color, pattern, and tone that add depth and a warm, welcoming embrace.
Designers insist on the systemic layering of multiple floor rugs, pillows, cushions, throw blankets, and curtains over blinds to create a cozy environment during winter months. Don't get too wild with the tonal palettes. Try to keep the layering elements consistent using earthy colors that complement the rest of the chosen décor.
Another point is to make sure to use different textures to enhance layering on everything from sofas to tables. Fabrics can include velvet, wool, cashmere, faux fur, and even boucle threading to create soft curves on layering items, such as couches and cushions. Once the layering elements are decided, complete the picture by pairing them with oversized textural items, such as a boucle armchair and other well-chosen décor pieces.
All that considered, what's the difference between adding textures versus textiles? Textures add design gravitas to layered décor elements, whereas textiles are actual layering elements. Good examples of textiles are knit accessories and quilted materials, flannel sheets, and cashmere or wool throws. Thick blankets and dense knits can be combined with sherpa and boucle elements to accentuate a warm winter vibe.
Your Home's Interior Design
Your home is your warm haven during the long, chill days of winter. Updating the interior décor will instill a sense of refreshing comfort, creating serenity by focusing on the things that bring you joy and satisfaction.
Seasonal design trends may come and go, but there will always be certain items transcending novelty that are timeless and relevant. Décor experts agree that elements should be used that first inspire the homeowner, then a secondary eye toward creating an eloquent schema that can last for years.
The romance lies in the pursuit—the attempt to attain that perfect aesthetic combination of items and elements that personify one's individual character while offering the solace and coziness to brighten even the coldest winter day.
As always, stay tuned to Haven for further home design & furnishing articles and insights.