When you think of Las Vegas the things that come to mind probably include glamorous shows, five-star restaurants, and the Las Vegas strip. While the city is largely known for its casinos, vibrant nightlife, and famous hotels, the city also has another side to it you may not have known; an impressive art scene. All along the strip, you can find public art being displayed with locals and visitors alike embracing the new wave of art popularity coming to the city.
The majority of the Las Vegas art scene can be seen around the Arts District, which is an 18 block area located downtown that has the highest concentration of art galleries in town. Even only a few years ago, this section of town wasn't highly frequented by tourists or locals, but now this part of the city has transformed. They've widened their sidewalks, restaurants have moved in, galleries have extended their hours of operations, and other attractions are moving to the area, making it a bucket list item now when you visit Las Vegas.
The Arts District attributes some of its recent success to a music festival called "Life is Beautiful" that was headlined this year by superstars Billie Ellish, Green Day, and Tame Impala. The festival focuses a lot of its resources on art by bringing in muralists from all over to create murals on downtown buildings and commissioning public art sculptures. According to festival CEO, Justin Weniger, "the mission of the festival is to aid in the positive transformations of communities and perspectives by collecting, inspiring, and empowering, and the art program plays a critical role in that transformation."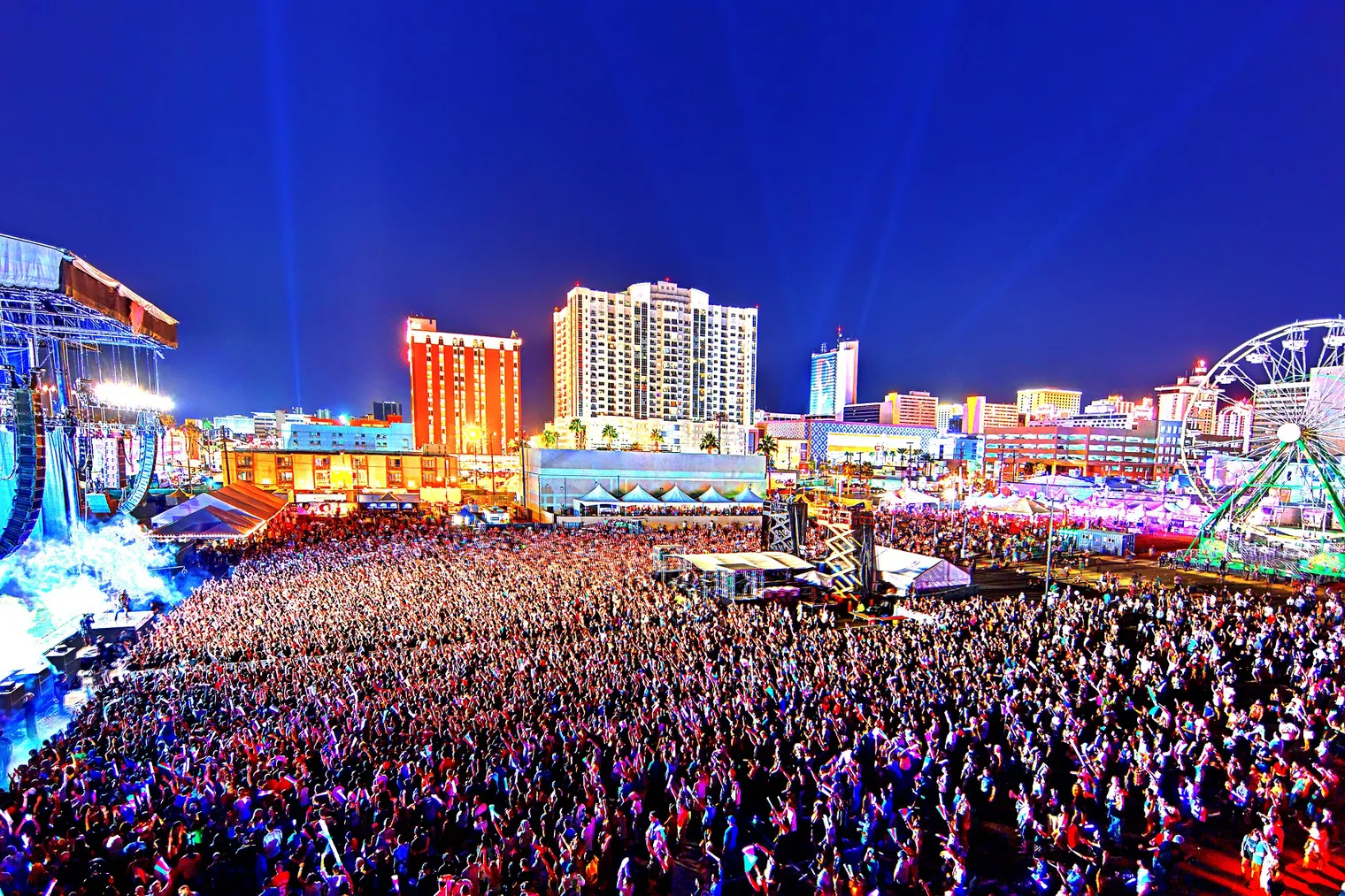 Even if you don't venture off to the Arts District, the art scene in Las Vegas can be seen throughout some of the most well-known hotels on the strip. The Bellagio features their own art gallery inside their hotel known as the Bellagio Gallery of Fine Art. Inside, the exhibits change every few months and have become a sought-after gallery for contemporary artists to display their newest work. At The Palms, CEO Frank Fertitta has slowly obtained one of the largest collections in the world, which can be seen throughout the hotel. When in The Palms hotel you can see original works of art from artists such as Andy Warhol, Jenny Boot, Dustin Yellin, and many more. The Cosmopolitan is also immersed in art with some displays playing on video screens that wrap around columns and their famous bar that features a 2 million Swarovski crystal chandelier over the area. Largely known for its iconic lobby ceiling, Cesar's Palace is currently renovating and expanding its art gallery due to overwhelming demand for the attraction. The space will feature more room and works of art and claims it will be one of the most amazing art experiences to ever hit Las Vegas. Through renovation, they will still have their famous art on displaying including pieces from Picasso and Peter Max.
Perhaps one of the best well-known and highly anticipated events in the Las Vegas art scene, is the Summerlin Festival of the Arts, happening on October 10th. Celebrating its 26th year, the outdoor event features works of art from over 100 artists. Located in Downtown Summerlin, about a 20-minute drive from the Las Vegas strip, the purpose of the festival is to celebrate, highlight, and support artists. The free event attracts around 40,000 people every year and also features shopping, dining, and entertainment as well.
It is clear that the Las Vegas' art scene is in a league of its own. No matter what type of art you prefer, you can find all of it in one place, nestled beside busy nightlife, Michelin-star restaurants, and iconic hotels. Las Vegas is a bucket list city for any art lover with a bustling downtown art district to a well-known Art Festival and famous works of art on display in glamorous hotels, there is truly nothing else like it. As amazing as it currently is, with many future galleries and museums in the works, it seems as though the iconic Las Vegas art scene is just getting started.