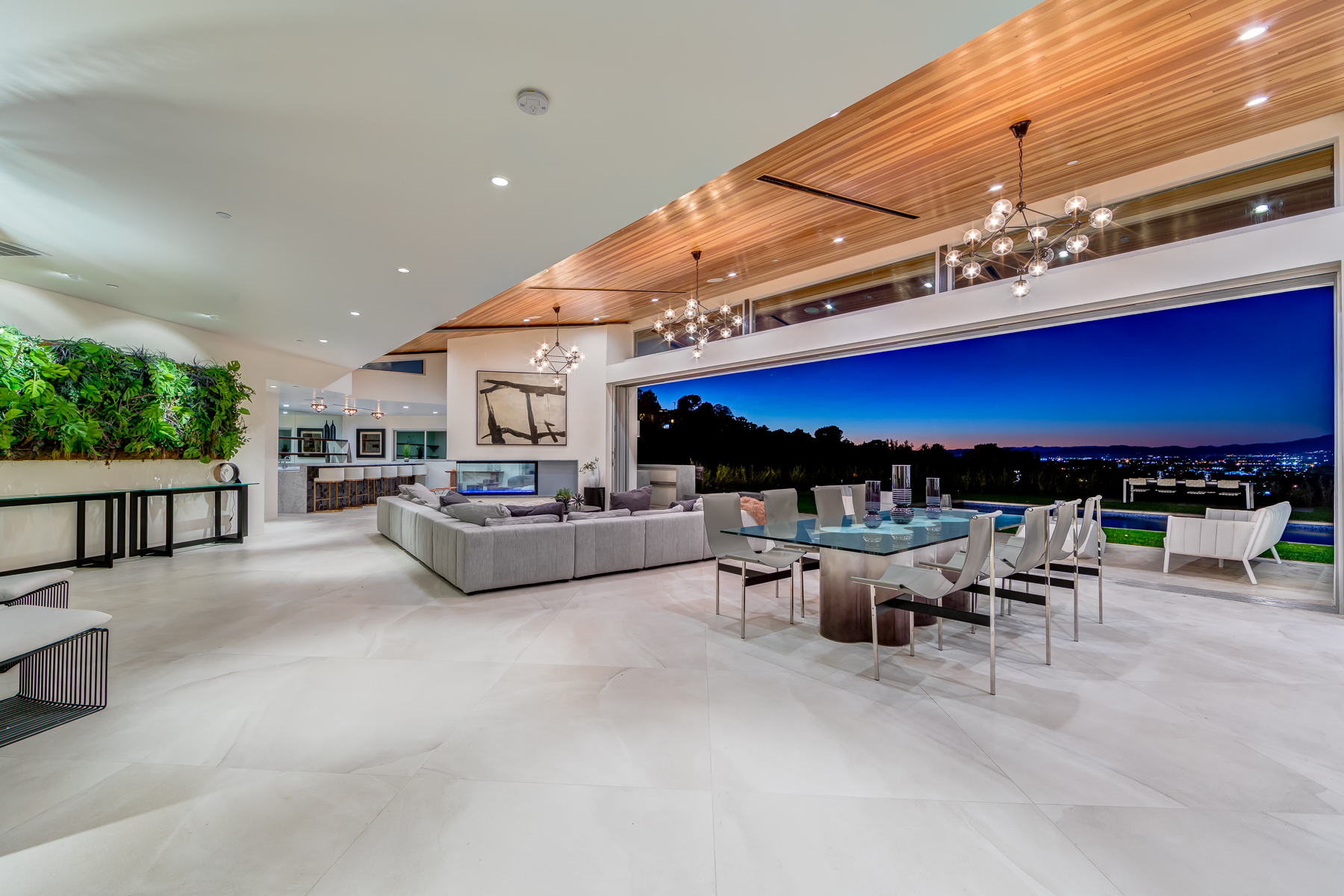 "I can see the writing on the wall," says Andrew Manning, award-winning REALTOR® with Berkshire Hathaway HomeServices California Properties and the No. 1 individual agent in California's San Fernando Valley for Berkshire Hathaway HomeServices California Properties. He laughs with his characteristic good humor at the pun, but what's the punchline?
Manning is a 30-year veteran of the industry, and with exquisite listings ranging from $3 million to $30 million, he keenly understands the luxury real estate market in Southern California. Here are his predictions for what we'll see in 2022:
Price Appreciation
Appreciation is absolutely going to slow next year, Manning explains. Throughout 2021, we had unprecedented 14-16% price increases and those kinds of numbers simply aren't sustainable, which is actually a good thing. "Anyone in their right mind hopes prices don't continue to climb because people will be priced out of the market," he says. "In my neighborhood, we had a few homes that sold for around $20 million this year, which used to be unheard of in the San Fernando Valley, and now everyone is trying to get to that number. I know at least 15 houses coming on the market in the next six to nine months that are aiming for that $15-million price point … or higher."
Interest Rates
While interest rates will trend up, they won't go crazy. Manning predicts we'll see rates at about 3.5% by next summer – and that's still relatively low. "People got spoiled at 2.5% but I remember being in my first real estate office and having a full company party when interest rates finally fell below 10%." Manning says buyers who view rates from this historical perspective, even with slight increases, will understand the potential of investing in real estate, and that will keep buyer demand for luxury properties high throughout 2022.
New Construction
"In L.A., O.C. and Ventura County, there's a strong appetite for new construction and remodelled properties. The luxury buyer today doesn't want a fixer-upper or the associated work involved in making that home fit their lifestyle; they're looking for a turnkey situation. They have cash, and they want to move in now, not in six or 12 months when the fixer-upper is finally ready. If you have a new construction turnkey property priced within reason, it's going to sell. On the developer side, there's a real push to build homes that can be listed for a new, record-breaking price.
Inventory
Manning considers the Super Bowl the kick-off time for the luxury market, and expects inventory to remain low until early February 2022. "A lot of long-term owners who are now on the fence about selling will see how their home has increased in value and say, 'Wow, OK, this is the price we're worth now? Maybe it is time to sell.'"
Days on Market
"For uber-high-end homes, days on market will continue to be longer than the national or county average because buyers are more selective," says Manning.
Home Design
Heavy, crystal chandeliers and ornate ornamentation won't make the 2022 design cut, as Manning says buyers are looking for less sparkle and more simplicity. "They want clean lines, quality materials and privacy above anything else," he explains. "Luxury homeowners don't want to see their neighbors unless they're invited over for dinner."
In terms of color, Manning says buyers in 2022 will opt for light, bright, gray and black, and he doesn't see the appetite for that color palette changing anytime soon. "I had a listing and the owner painted it dark beige with brown trim, and prospective buyers kept asking, 'What's the real color going to be?'" And while the white-and-black monochromaticity of the ever-popular Modern Farmhouse reigned in 2021, Manning anticipates "transitional contemporary" will be the new style for 2022. His definition? "White windows, lots of greenery, screening rooms, fire pits or fire features, pools and water features, pizza ovens, outdoor kitchens – modern but flexible for all kinds of lifestyles."
Another trend Manning forecasts to pop in 2022 is secondary units, like a guest house or pool house on the property. "Families looking for properties in this price point want five-bedroom homes with gyms, home offices and creative rooms that can be repurposed into their own space," he says.
Multiple Offers
Manning says even though the ball hasn't dropped for 2022, we're already seeing multiple offers slow. "Properties that used to have 12 or 14 offers now have 4 or 5."
Home Features
2022 will be the year of security, from gates and privacy fencing to elaborate security systems, Ring doorbells and camera systems. It'll also be the year of sustainability, from energy-saving appliances to back-up generators and every solar-powered system in between. "Solar is huge and getting even bigger," Manning explains. "Electric car chargers are now required on all new construction homes in L.A., Orange and Ventura Counties."
Buyer Demographics
The Valley is heating up, and will continue to see heightened buyer activity throughout 2022. "There are some very expensive areas in L.A. now and buyers are starting to spill into the Valley where they can get more home for less," says Manning. He also explains that because work-from-home jobs have eliminated the traditional office commute, some buyers are willing to trade in urban or even suburban locales to live in sprawling rural markets like Santa Ynez.
Formerly a sleepy Central California region, Santa Ynez is now seeing more interest than ever. "People are coming from L.A. and realizing, 'Hey, we can get 5 or 10 acres here with great public schools, wine tasting rooms, nature trails and hiking." It's one upside to the challenges of 2020 and 2021, says Manning. Luxury buyers are giving a lot more thought to the lifestyle they really want, then finding a home that will let them live it.