Price: $4,950,000
Location: 110 Clark Road, Bernardsville, NJ
Located in the tri-state area, an hour's drive from New York City and just an hour and a half away from Philadelphia, you'll find Bernardsville, New Jersey. Bernardsville is a small town of just under 8,000, a quiet place to put down roots. It is known as an affluent town that draws in wealthy New Yorkers looking for a comfortable life outside of the chaos of the big city.
Bernardsville is known as a safe and quiet place with small-town charm. It has quiet main streets with shops and eateries, peaceful parks, and nearby wildlife sanctuaries and conservation areas perfect for a peaceful stroll. It also has stunning luxury real estate options, with massive private homes far enough away from the New York area to not have exorbitant prices.
One example of a stunning Bernardsville home that recently hit the market is a gorgeous and spacious mansion located at 110 Clark Road. This stunning property is the perfect small-town estate for a family, with a massive yard, incredible view, and endless space for family-friendly customization.
After a year of being cooped up due to the pandemic, many have reevaluated what they prioritize with where they live. For some, the new focus is on top-notch outdoor access and the most space possible within the home. With five bedrooms, seven bathrooms, incredible features, and a gorgeous yard area, 110 Clark Road fits the bill.
The home is filled with natural lighting with high floor-to-ceiling windows at every turn. The great room has 20-foot ceilings with a dining and lounging area perfect for entertaining, as well as a fireplace. The hardwood floors, detailed moldings, and muted white and grey color palette give the home a modern but comfortable appearance.
On the first floor, you'll find the gourmet kitchen with smooth white countertops and a picturesque view of the surrounding forest area. With stunning lights hanging down from the ceiling and a nook for family fining, it is a perfect spot to host guests and cook up some delicious food.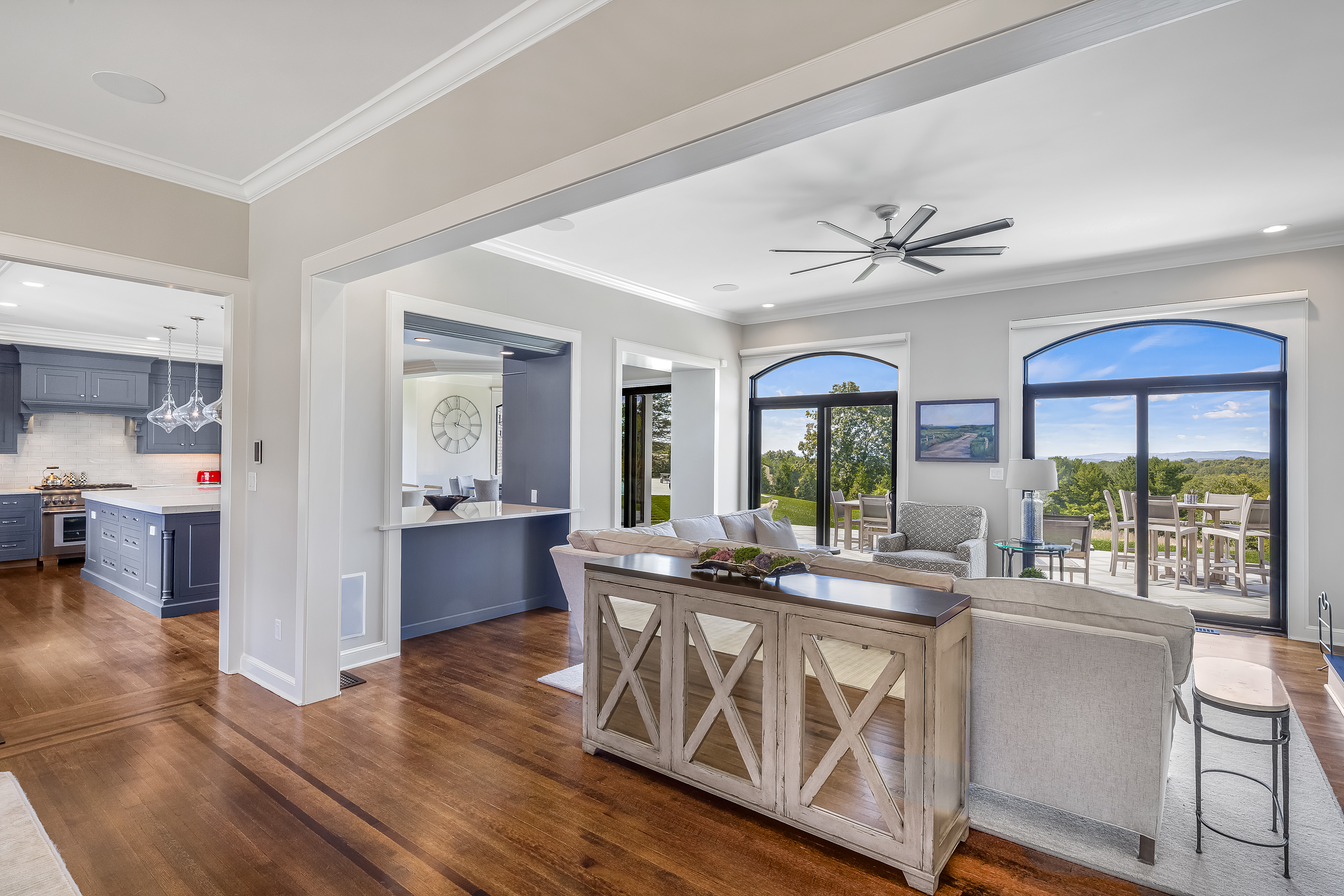 The first floor also has the primary suite, a comfortable room with more stunning views of the surrounding countryside. There's easy access to the rear patio, a fireplace, two baths, a shared shower, and two walk-in closets, so wardrobe space won't be an issue.
The lower level is where you'll want to spend most of your indoor time, with an incredible entertainment room, complete with a gorgeous wood-paneled bar and an adjoining music room venue, perfect for the music-oriented family. There's also a game room with a billiards table and a fireplace.
Out back, you'll find a massive backyard with an adjoining forest and a backyard patio for summer outdoor dining. There's also an infinity pool with a deck and chairs, and a hot tub for year-round use. It is the massive outdoor space you've been searching for.
The home is currently being listed for $4,950,000, a relative bargain for a property of this size. If you've been seeking a stunning small town refuge that still provides tremendous access to multiple big cities, 110 Clark Road is the place for you.