Price: $12,995,000
Location: 119 Telegraph Hill Boulevard, San Francisco, CA, 94133
San Francisco is one of America's eminent cities, a stunning urban sprawl set along the San Francisco Bay. With an appealing skyline and gorgeous natural settings of the nearby forests, waters, cliffs, and hills, San Francisco is one of the most scenic cities in the country. When you factor in its superb dining options (highlighted by 45 Michelin-starred Bay Area restaurants), unmatched local economy, and high-end shopping, San Francisco is as desirable a place to live as there is.
Telegraph Hill is a world-famous area in San Francisco with a history tracing back hundreds of years. It is now home to the city's highest concentration of pre-1870s structures. It is also one San Francisco's most sought-after residential areas, with luxurious homes, incredible views, trendy cafes and restaurants, and a busy nightlife scene. This is where the incredible 119 Telegraph Hill Boulevard is based.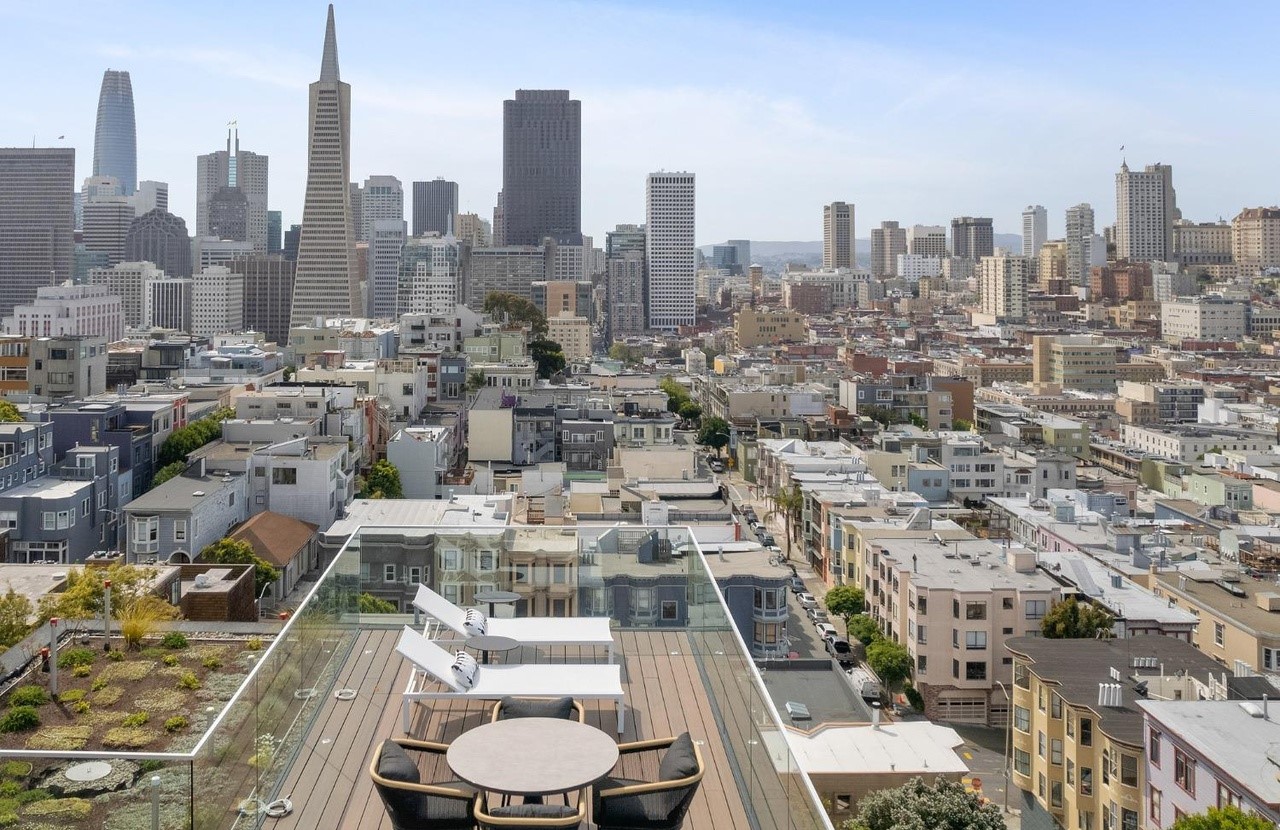 Completed in 2022, 119 Telegraph Hill Boulevard is a four-level home designed by renowned architect Lewis Butler. It has a stylish modern design, blending wood paneling with sophisticated white finishes for a contemporary, chic look. This spacious home offers three bedrooms and five bathrooms.
Upon setting foot in the home's entry level, you'll immediately be struck by the living oversized windows and a cozy living area featuring an inviting fireplace and a sleek design.
The home's beautiful kitchen and dining area are on the second floor, which boasts high ceilings and floor-to-ceiling windows with bay views, including a vista of the Golden Gate Bridge. There is a large center island for meal prep and entertainment, streamlined custom cabinetry, and modern appliances. The dining area sits right by the window, so you can enjoy meals with astonishing views.
The primary suite occupies the entire top floor of the home. The room has wraparound windows that spotlight incredible city views and open onto a sprawling private deck. There is a large walk-in closet with a dressing area, and the en-suite bathroom is spa-quality with an eggshell bath, walk-in glass-enclosed shower, and dual vanities.
Other standout features include a rooftop deck with glass railings, a large great room on the bottom floor, solar panels, and Lutron lighting. The bottom floor also includes a scenic landscaped terrace that faces the Financial District. 
119 Telegraph Hill Boulevard is a stunning new construction with a sleek design and amazing features. With a prime location in a sought-after historic neighborhood and unparalleled views of the city, this home is a rare find and is currently listed for $12,995,000. It is a dream home for a buyer seeking a slice of Bay Area paradise.