This Beverly Hills estate, designed by Jae Omar with architect Eran Gispan and builder Pacific Cove Development, is the very definition of what an ultra-luxury contemporary and modern mansion should be.
Overlooking the Los Angeles skyline and the Pacific Ocean, this hillside residence is the epitome of sleek organic minimalism focusing on a natural flow of elements, enhanced by expansive floor-to-ceiling windows and nearly transparent interior/exterior living spaces.
Each area inside and outside The Channel House join with each other to produce serene transitions that create a truly open aesthetic, an important consideration according to Omar: "Each formed plain is independent yet interdependent on the next in defining our perception of the space."
This is readily seen throughout the $26M nearly 12,000 square foot, five-bedroom, nine-bathroom property organized as a series of architectural moments meant to be experienced seamlessly, adding to the native make-up of solid matter. "All things consist of particles bound together by the irresistible forces of nature," said Omar. "Design is no different."
Artfully concealed behind a 14-foot angled privacy screen, clear lines and structure are interposed, generating a channeling perspective. The floating courtyard entry with louvered gates, textured marble pads, and a waterway sculpture garden with a Bonsai tree lead into the double-height entry and living room, with an entertaining area passing to an outside deck and infinity-edge pool, extending the full width of the property.
"The floating entry gives way to a double height volume and eventually the infinity pool and incredible views," said Omar. "This is elemental balance. For me, this is modern design."
The main floor is open to the outdoors via operable glass walls. The dining area owns a slatted wood wall for displaying artwork, and the family room features a channeled, textured fireplace that integrates with the spacious two-story construction, anchoring the home's west wing. The windows and glass doors flood the interior with gentle light, showcasing the sandblasted white onyx above the fireplace and floor-to-ceiling views from the poolside office.
The living room leads to a two-oven chef's kitchen featuring Doca of Spain smoked eucalyptus hand-crafted cabinetry, integrated Miele appliances, reflective glass and bronze accents, and a breakfast bar opening to a living area with a fireplace. The adjacent dining room boasts a temperature-controlled wine room and full-service bar overlooking the outdoor water feature.
A glass-railed, floating staircase leads to the upper level with three of the five bedrooms, including a primary suite with a full bar, leather Pietra Grigio fireplace, large walk-in closet, and custom dressing room with hand-crafted cabinetry.
The ensuite bathroom features floor-to-ceiling sandblasted marble, a freestanding soaker tub, frameless glass shower, custom vanity with suspended mirrors, and Sonobath sinks with etched verse from The Book of Samurai. Furthering the openness, outdoor balconies connect both the bedroom and bathroom, providing skyline panoramas.
The Channel House lower level, like the rest of the home, is accessible to abundant sunlight that spills out over a full bar, professional soundproof Dolby home theatre, ensuite bedroom, and fully-furnished gym/spa (with sinks sporting Muhammad Ali messaging). There's also plenty of room for toys with a ten-car, air-conditioned auto gallery, which can be admired through a glass viewing wall.
The Channel House interior areas segue effortlessly to outside space, designed for gatherings and parties. Embraced by Ipe wood decking, the pool grants access to a fire pit lounge, an outdoor kitchen and bar, and is resplendent with an elevated entertainment pavilion, including a dining table and lounge.
Above, the home offers an incredible rooftop terrace possessing a marble fire feature to help illuminate the evening city landscape from Franklin Canyon to Century City to the Pacific Ocean. Beyond, the estate is surrounded by the finest upscale boutiques, shops, restaurants, and entertainment amenities Beverly Hills has to offer.
The property is an exceptionally engineered work of art using cutting edge technologies that erase indoor/outdoor boundaries while enhancing the linear sensory connections between spaces, or, as Jae Omar puts it, "the vertical channeling throughout the home represents solidity as a perception: Channel House."
Omar spent years abroad in Europe studying classical architecture, historical designs, and Romantic Era artistry before settling in Southern California, where he discovered a love of the varied landscape and prominent modern architecture.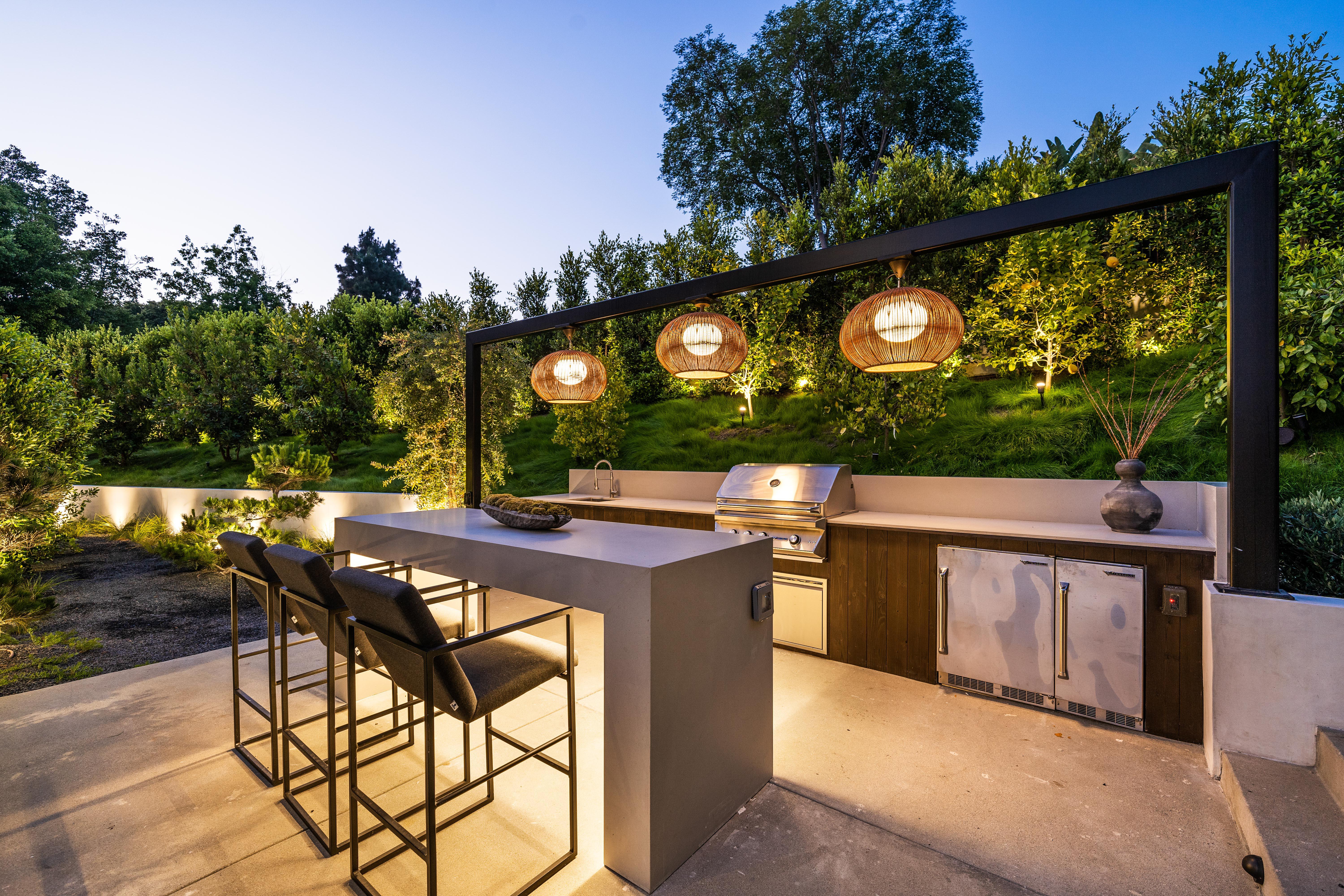 All of these influences and learnings form Omar's unique design style, which redefine the boundaries between art and design, passion and purpose. His inspiration comes from the natural world and our unbreakable relationship to it. "Modern design should not sacrifice warmth and intimacy for sweeping expanses and minimalist detailing," said Omar.
Omar's philosophy has definitely been put into practice via The Channel House, manifested through organic design, natural materials, unique finishes, and a blend of channeled verticals that contribute to a transcendent indoor/outdoor living space experience.
Jae Omar inspires with soul, style, and substance. "Modern design should reflect who we are," said Omar. "Complex arrangements of matter and emotion."